The Enlightened Edge is here!


Don't let your leadership potential get hijacked by limiting patterns. Become the leader you were meant to be!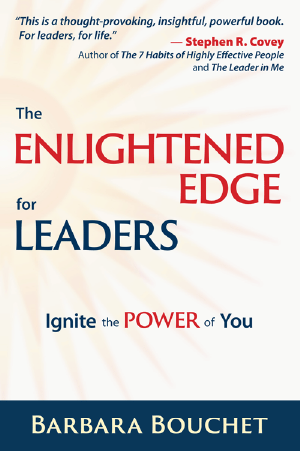 The Limited You may be standing in the way of your full leadership potential. Despite your best intentions and efforts, the Limited You can hold you back from your full power, limit your vision, and even do more harm than good. But when you ignite the power of the Essential You, you have a hotline to a smarter and wiser you.
The Essential You optimizes your impact when you need it the most. As clarity replaces confusion, as you connect rather than react, your ability to influence and inspire others will soar.

This book will show you how to work with your enlightened edge so you can be as confident, powerful, and visible as you need to be. With an expanded leadership presence, you'll be able to bring out the best in others when the heat is on.
You'll learn how to work creatively with tension and optimize your impact by making focused contact at critical moments. This requires awareness, skills and tools. This book will show you how to:
Influence with integrity and vision, so others want to join you
See your blind spots and move out of your comfort zone
Go into challenging conversations fully prepared
Recover gracefully from painful mistakes
The Enlightened Edge for Leaders is available both in print and as and ebook at Amazon. It has has received endorsements from Stephen R. Covey, Barbara De Angelis, Marshall Goldsmith, Brian Tracy and Kevin Cashman among others.
Curious about the Enlightened Edge?
Do yourself a favor and subscribe to the Enlightened Edge. You'll receive powerful tools for expanding in your life and work.
You can also check out the following white papers and blog articles.
Read an Excerpt
Go to the Enlightened Edge™ website to read the Introduction to the book.