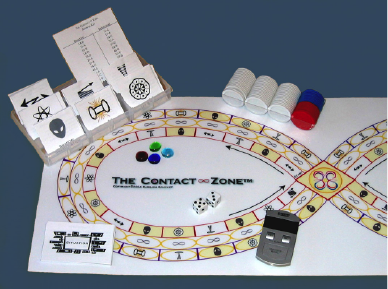 The Contact Zone™ Board Game
To tap your full power as a leader or team member, you must make effective contact. This requires multiple skills, ones that you will develop by playing The Contact Zone™ Board Game. It provides a safe, structured and fun way to develop powerful relational skills.
Effective contact requires awareness of when you are in limiting pattern. And feedback is the best way to become aware. The board game addresses limiting patterns, such as:
domination
over-protection
micro managing
defiance
compliance
By identifying these patterns and then applying the correct "antidote", you can claim valuable ground as a leader, manager or team member. The game will familiarize you with these constructive "antidotes" as you tackle challenging business situations.
What the Contact Zone™ Game Delivers
Learn influencing skills that rely more on emotional intelligence and less on position power
Prepare for and manage challenging interpersonal situations
Learn how to shift from reactive patterns to proactive, productive behaviors
Practice giving and receiving specific, structured, constructive feedback
Increase emotional intelligence and strengthen relationships
Develop clear solutions to familiar and challenging business situations
Best Practices
The Contact Zone™ Board Game integrates best practices from communication, psychology and leadership development. It is based on over 25 years of intensive study of human behavior, effective relationships and productive use of power.
How to Play
Talk with Barbara about how your group could play the game.
Consider bringing The Contact Zone™: Power & Influence training to your organization. The game is a central feature of this training.
Customized Scenarios
The game can be customized to the specific needs of your group or industry. This option is especially attractive for groups that are already formed and experiencing specific challenges. Contact Barbara to discuss options.