The Enlightened Edge for Leaders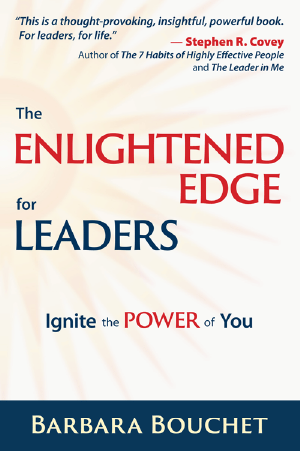 This book will show you how to become a more powerful, expanded, and balanced leader. You could:
Be more confident, powerful and visible
Be your best and bring out the best in others when the heat is on
See your blind spots and recover gracefully from mistakes
Go into challenging conversations fully prepared
Influence with integrity, vision, and personal power so others want to join you
Learn how to shift from the defensive and contracted Limited You, to the wise and expansive Essential You. Don't let the Limited You, with its insecurities, stand in the way of your potential as a leader.
Don't let your leadership potential get hijacked by limiting patterns. Become the leader you were meant to be!
When you ignite the power of the Essential You, you have a hotline to a smarter and more balanced you. As you connect rather than react, your ability to influence and inspire others will soar. Others will naturally want to join you.
This book provides a foundation for working with both the light and the dark aspects of who you are. You'll learn to recognize what holds you back from your full power, limits your vision and how you may be sabotaging yourself.
As you liberate your leadership potential, you'll be able to take powerful, positive action from a feeling of unshakable confidence.
You'll learn to work creatively with tension, optimize your impact by making focused contact at critical moments.
This book will strengthen the clear thinking and clear feeling that is necessary for effective leadership in any area of your life. By working with your enlightened edge, you can be a leader anywhere, at anytime.
Book Contents
Introduction
The Leadership Challenge
The Limited You & Core Insecurities
Reactivity & Defensive Strategies
The Essential You: Core Truths & Anchors
Reactive Patterns
Relational Patterns
Gather Awareness & Learn
Accept What Is
Take Care & Take Charge
Creative Tension & Ignition
Establish Contact Readiness
Handle the Heat in the Contact-Zone™
Lead With Presence & Vision
The Enlightened Edge of Leadership
My Vision